unplug
The meditation app for people who think they can't meditate.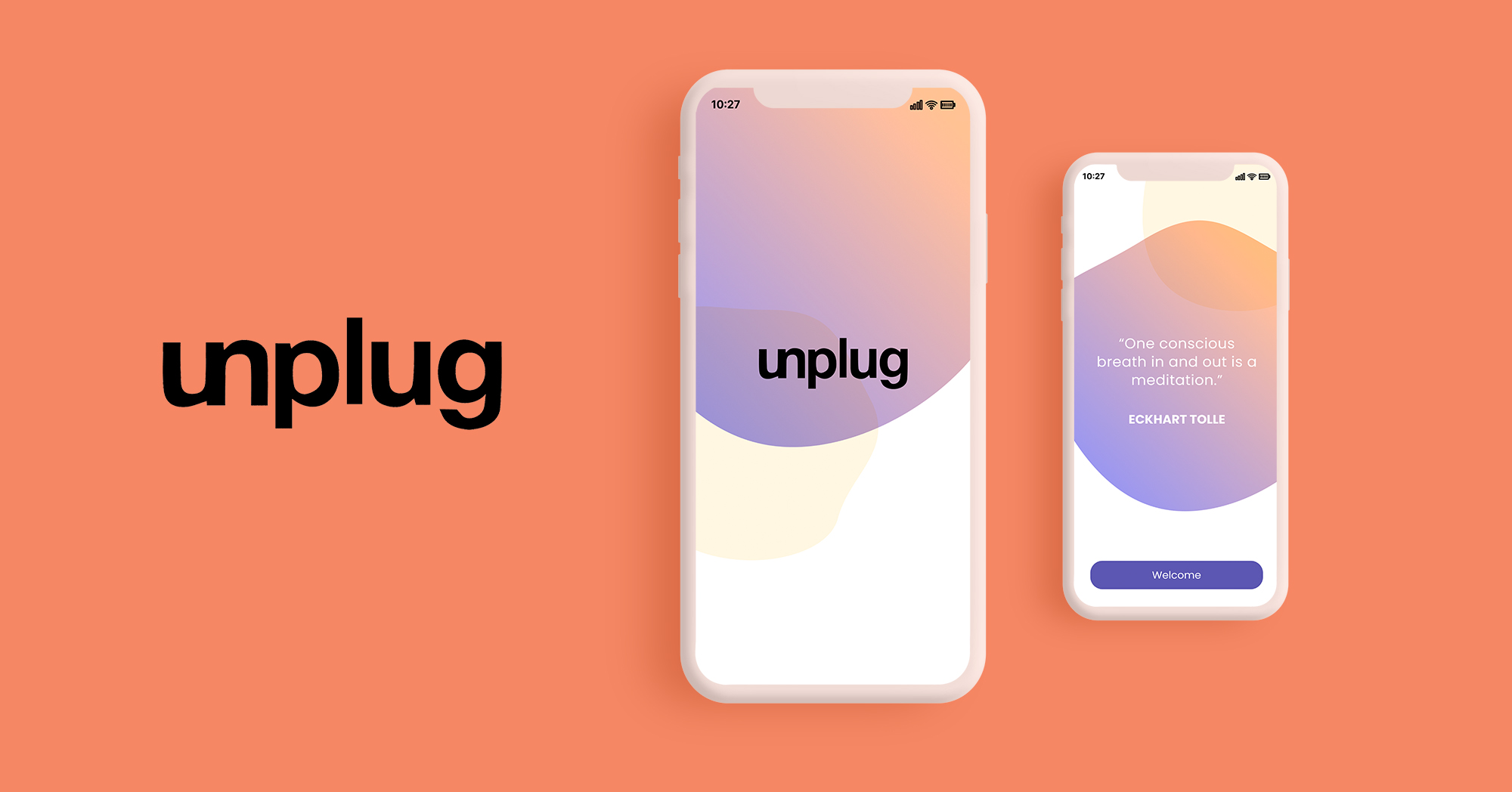 Role:

art direction, UI design, illustration
The team:
Kristin Koch / UX design
About
The
unplug
app wasn't engaging well with its audience, nor standing out amongst the competition.
My role was to
redesign the app
, focusing specifically on the onboarding experience.
Challenges

With the sheer amout of content available, users are experiencing cognitive overload when trying to find and select a session.


The app lacks visual hierarchy and is designed more like a news app than something that feels soothing and intuitive.


There are many other meditation apps out there, which makes standing out crucial.

The unplug app before:
Redesign goal

#1 / To help reduce cognitive overload.

One way to reduce cognitive overload is to curate content for the user so they don't have to go digging for it. To do this, I redesigned the onboarding experience (below) as a way to capture preferences from the user right from the start. These preferences end up curating the content that shows up on their HOME page, reducing the need to have to dig for content. Because when all you're after is some relaxation, digging is no fun.



Updated onboarding experience:
Optional questions:
Delay screen + Home screen:


Redesign goal

#2 / To bring a softer, more human touch to the overall visual approach through color, visuals, hierarchy, and tone.

I built a color palette based on the psychology of color, and the mood states of meditation. That which invokes calm, focus, and yet, can also feel invigorating.


Hand-drawn icons were created to add a bit of human touch and warmth to the content. This design decision helped the app feel less like news bites, and more like a place to unwind and engage.
Copy was rewritten to be thoughtful in approach, and casual in tone.
Redesign goal
#3 / To help the app stand out amongst a sea of other meditation apps.
To do this, I focused on multiple approaches:
an updated color palette
organic shapes
hand-drawn icons
elevated photographic direction
tone-of-voice
a redesigned onboarding user experience
Takeaways

Despite the meditation space being crowded, a survey of unplug's competition yielded apps that didn't have much content geared specifically towards women, and especially their shifting needs as they age. Therefore, some optional questions were added to the onboarding process to capture this information, allowing the user to answer if they felt comfortable doing so.

It became clear there was a fine line between asking a user too many questions during the onboarding experience (resulting in drop-off),and not asking them enough questions to result in highly curated content. This project was an experiment in navigating that fine line.